The Wanderlust Series presented songs celebrating both the rewards of roaming in nature and the earnest world of inner, conflicting personal journeys. Epitomising the nineteenth-century concept of Wanderlust, Wilhelm Müller's poetry transports us from youthful exuberance to the brink of humanity's patience, and his work was a major influence on other significant poets.
For Schubert's complete song cycles at Blackheath Halls, I was joined by three exceptional artists: Julien Van Mellaerts; Francesca Chiejina and Stephan Loges. Coffee concerts in St Laurence Church, Catford brought a wealth of international talent into the area and focussed on collaborative song with leading instrumentalists.
Jocelyn Freeman, Artistic Director
January 2020
---
Online Recitals
Schools Project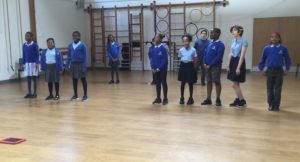 MiniWinterreise
Francesca Chiejina and Jocelyn Freeman ran workshops in three Lewisham schools, leading to an abridged, digital performance of Schubert's Winterreise in Jeremy Sams' English version.
Archive
Schubert's three song cycles featured Julien Van Mellaerts, Francesca Chiejina and Stephan Loges in partnership with series curator and pianist Jocelyn Freeman. Mezzo-soprano Fleur Barron, soprano Gemma Summerfield and tenor Brian Smith Walters featured beside violist Clifton Harrison and clarinetist David Campbell in recitals at St Laurence Church, Catford.
Click on the photo below to view a short performance from our 'Vienna: City of Dreams' recital.