The inaugural SongEasel recital series, From Russia with Love, featured Russian repertoire in programmes that explored the cultural and political links between the former Soviet Union and Europe. In keeping with Blackheath Halls' connections, each recital featured songs from across Sergei Prokofiev's output and brought new repertoire to established audiences.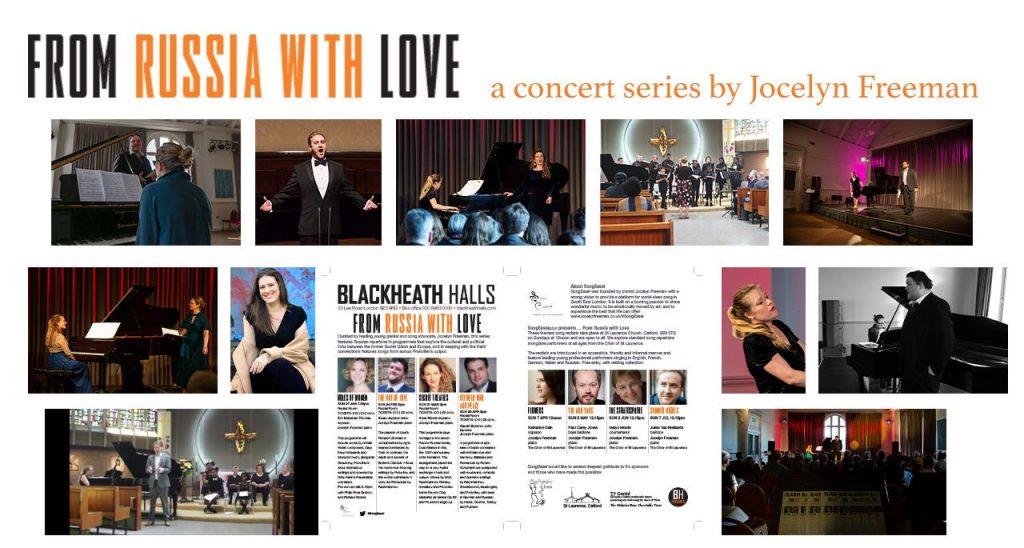 The recitals took place in Blackheath Halls, London.
---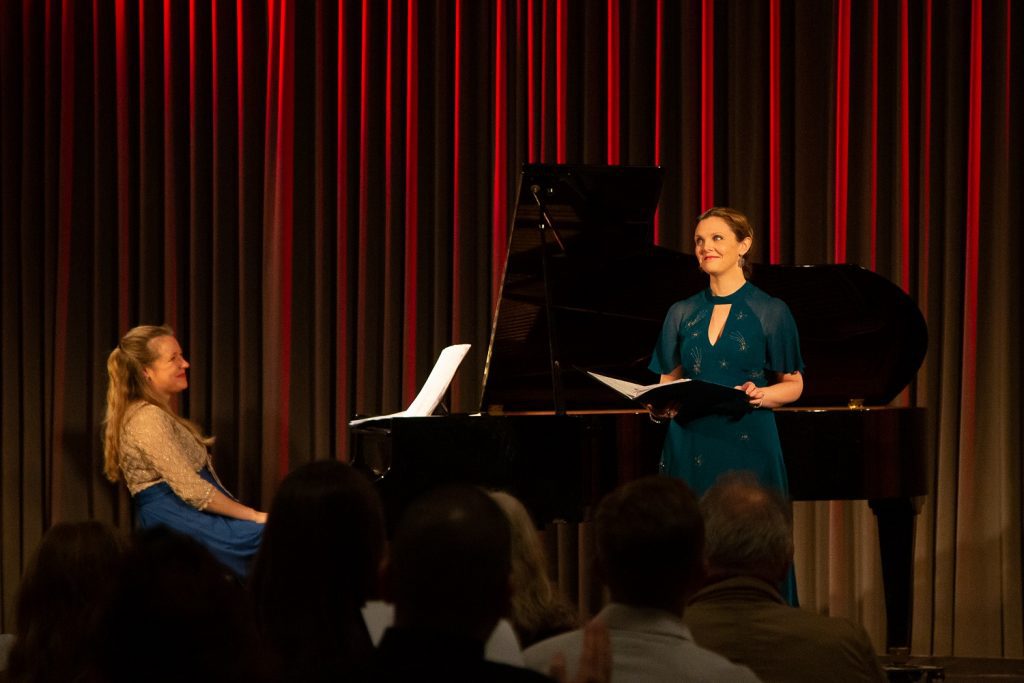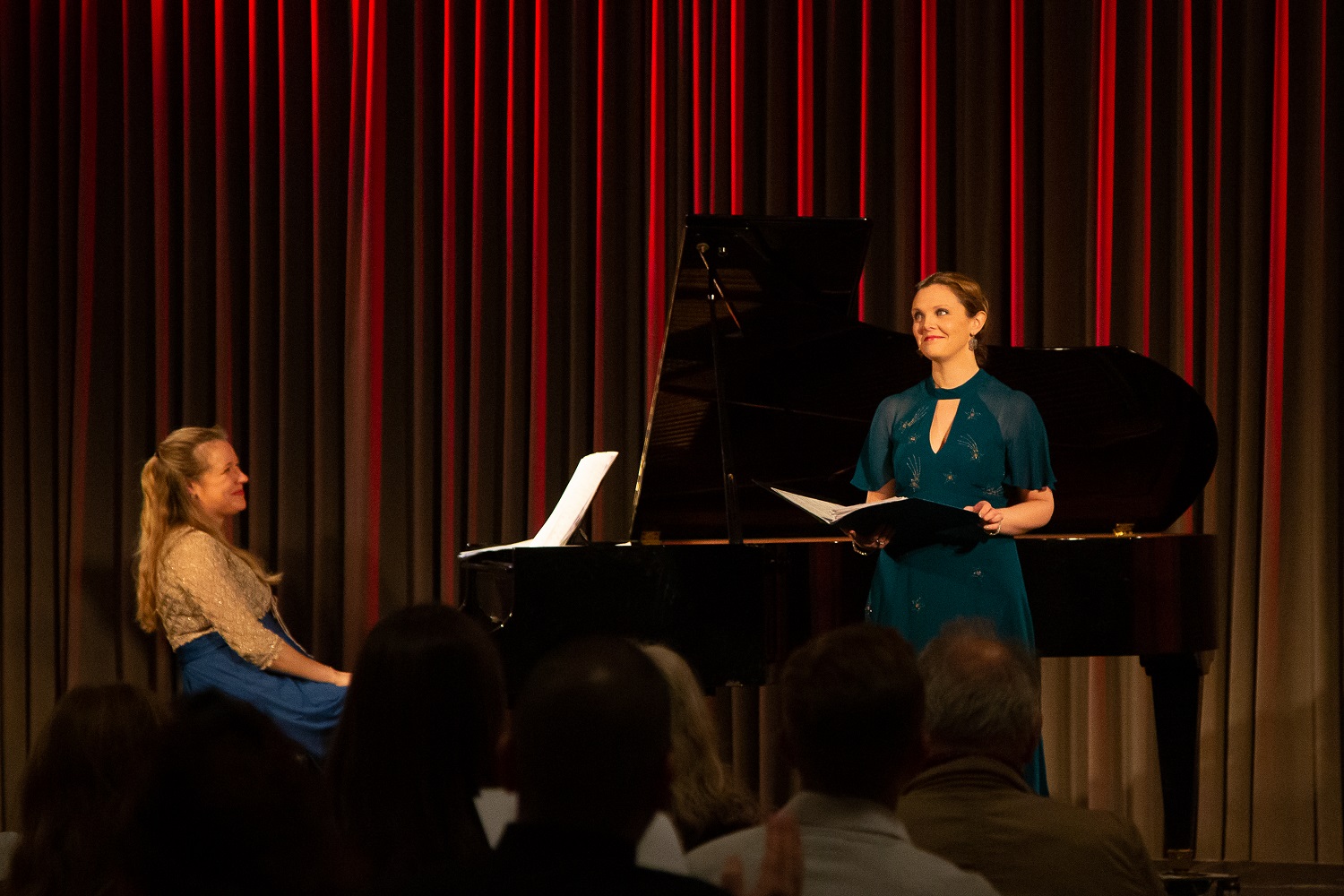 Roles of Women
With soprano Elin Manahan Thomas, pianist Jocelyn Freeman and prof. Philip Bullock as a speaker.
Roles of Women explored a variety of depictions of women across the past few centuries, and paid homage to three women who can be considered particularly influential and pioneering during their lifetimes: Morfydd Owen; Anna Gorenko; and Dilys Elwyn Edwards. Art song has long echoed societal traditions, frequently painting females as submissive figures admired for their beauty, gentle mothers and homemakers. Whilst this archetype is still largely reality globally, this programme pursued a deeper perpetration of the female psyche.
Works by Dilys Elwyn Edwards, Igor Stravinsky, Morfydd Llwyn Owen, Sergei Prokofiev and Robert Schumann.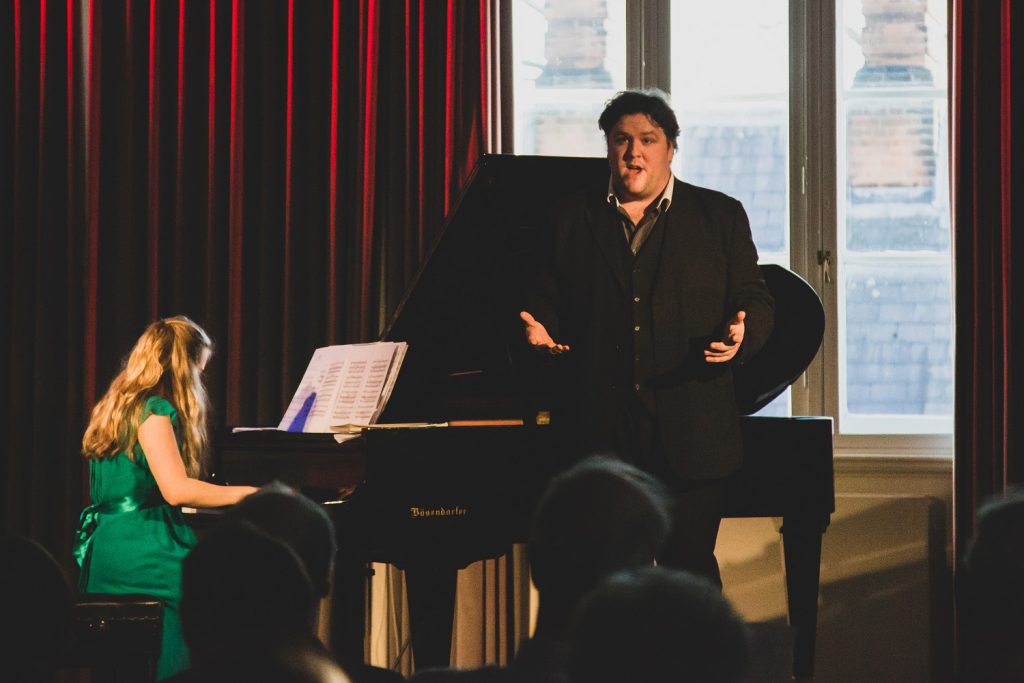 The Fire of Love explored songs inspired by infatuation, desire, memory and devotion, taking songs from across the most musically 'romantic' pair of centuries, and encompassing works in Italian, Russian and English. The latter language, whilst not globally acknowledged as a particularly seductive language, is used to paraphrase an ancient Hebrew text into the intense dedication of Britten's Canticle 1 at the centre of the programme. Liszt's mighty Petrarch Sonnets opened the programme, and a selection of well-loved Russian song brought it to its close.
Works by Franz Liszt, Paolo Tosti, Benjamin Britten, Sergei Prokofiev and Sergei Rachmaninov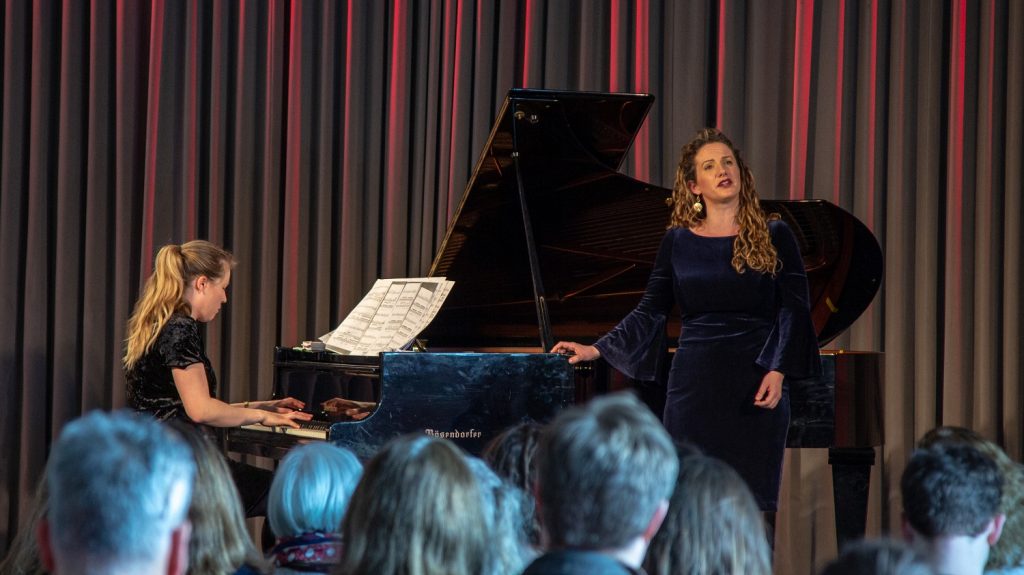 Secret Treaties
With soprano Anna Sideris and Jocelyn Freeman.
Paying homage to the secret "Dual Alliance" treaty between France and Russia in 1894, which paved the way for entrepreneur Sergei Diagilev's work, this programme delved into a world of secrets, agreements and exchanges, as set out in the illustrious language of Lieder, French and Russian song. The programme ranged from highly-charged and passionate texts set to music by Hugo Wolf, through more abstract settings of the poet, Paul Verlaine (1844-1896), an evocative Tolstoy (1828-1910) setting, bittersweetness from Pushkin (1799-1837) to the tragedy that is La dame de Monte-Carlo, with its incredulous symbolism and synopsis.
Works by Gabriel Faure, Hugo Wolf, Sergei Rachmaninov, Nikolai Rimsky-Korsakov, Sergei Prokofiev and Francis Poulenc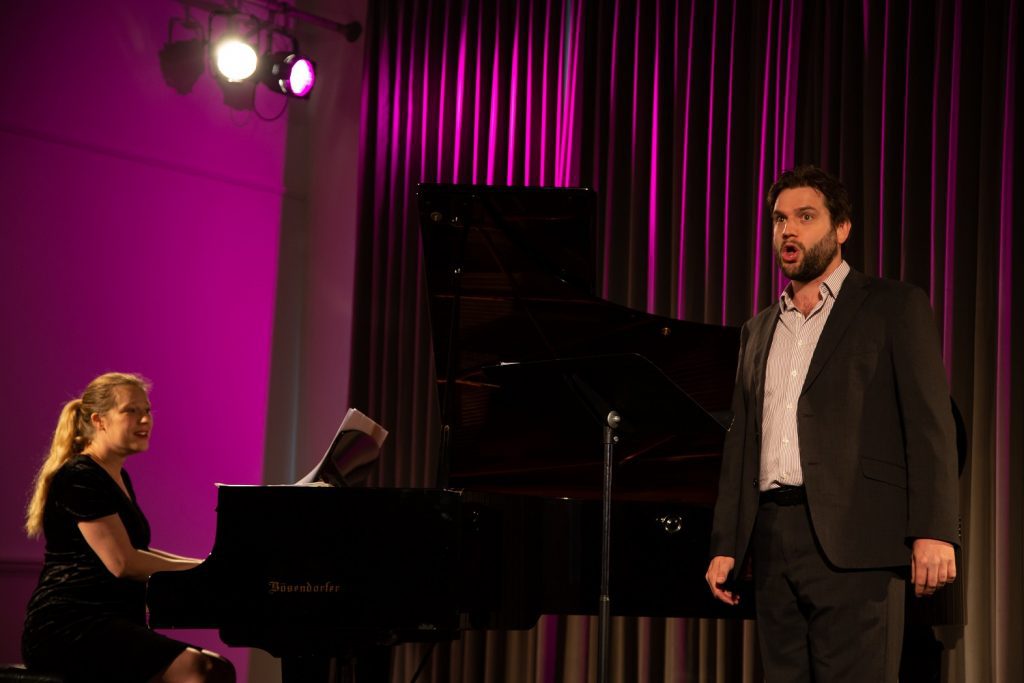 Between War and Peace detailed some exchanges of both culture and combat between Germany and Russia. From works inspired by the Napoleonic Wars, to Russian translations of German and British texts, depictions of battle contrasted with ensuing peace and harmony, this programme paired hidden gems of the Russian song repertoire with some Lieder and Russian classics.
Works by Sergei Prokofiev, Nikolai Medtner, Modest Mussorgsky, Dmitri Shostakovich, Robert Schumann, and Sergei Rachmaninov.
SongEaselPlus!
The recitals took place in St Laurence Church, Catford.
SongEaselPlus! recitals aimed to bring established song repertoire to new Lieder audiences, featuring the Choir of St Laurence and a mid-concert interview with our soloists. As part of From Russia with Love, each recital included at least one Russian song, and paired them with a palette-stimulating array of classical and popular songs.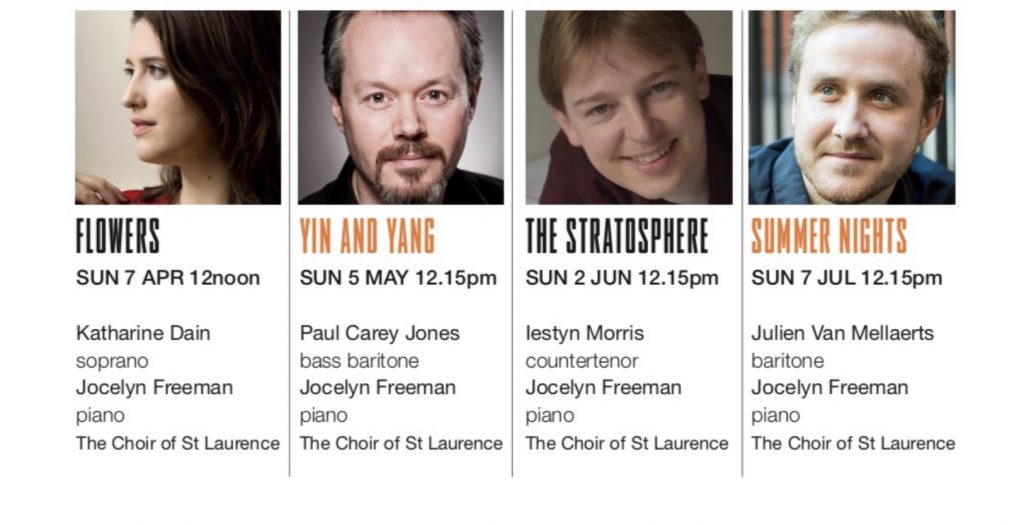 The recitals took place in St Laurence Church, Catford.
Flowers
With Katharine Dain
Works by Rachmaninov, Clara Schumann, Rhian Samuel, Amanda McBroom and Rogers & Hammerstein. Listen to The White Amarylis: Celebration.
Yin & Yang
With Paul Carey Jones
Works by Franz Schubert, John Ireland, Michael Head, Campion, Gwynn Williams, Idris Lewis, Stanford, Tchaikovsky, Jerry Bock and Gilbert & Sullivan.
The Stratosphere
With Iestyn Morris
Works by Nicolai Rimsky-Korsakov, Rachmaninov, Mendelssohn, Quilter, Britten, Tchaikovsky, Løvland, Lehrer and Blake. Watch video excerpt.
Summer Nights
With Julien Van Mellaerts
Works by Franz Schubert, Robert Schumann, Richard Lloyd, Tchaikovsky, Poulenc, Jacobs & Casey, Manning Sherwin, Cole Porter and Rogers & Hammerstein.
With thanks to the Oleg Prokofiev Trust and Nicholas Boas Foundation for their generous support.